Compete and get to know others!

Competing is an excellent way to get to know other players and to have fun together.
Look in here occasionally and update you. It is not to miss any nice arrangement!
How do I sign up?
If nothing else is mentioned, notifications are made at Mingolf.
Payment of the participation fee is made, generally, before the start of the race day.
Group and Club Days
A secret journey with the club or perhaps with the gang is a popular activity at our facility, especially when it can be combined with an overnight stay and with tasty food and drinks both before, after and during the game.
Let us know what you want in your package, and we'll make a special one for you!
For 30 SEK per player (minimum 16 people) per round we will help you with the organization of the competition. This includes printing scorecaries according to the start list in Excel sent to us, checking results and result lists in print and on the screens in the clubhouse.
Corporate Golf and private competitions
You can become a sponsor for your own competition; Both privately or as a company.
There are unguessed opportunities to promote your products/services for a whole day or celebrate a special moment (such as weddings and birthdays) with your family, friends and acquaintances.
We help you to work out your idea and to organize the day for you!
Overnight packages for race days
For participants in our open competitions special rates are offered for overnight stays at the resort.
Our Golf Packages for small and large groups include dinner at the castle.
Club Championships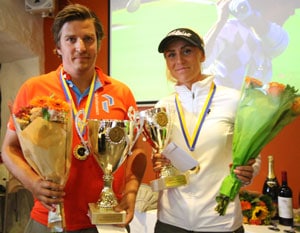 2018S club champion at Mauritzberg is named Gustav Walkin and Nathalie Thulin!
After two days of contestants, Gustav trouble managed to win the 165 battle, only one less than last year's winner, Lennart Dahlberg. For Nathalie, it was her fifth straight KM victory! An incredible bravure!
Mauritzberg Golf
Every Monday at Mauritz Golf 2019
Congratulations to 2018 years Mauritz golfer, Claes Hasselgren!
Mauritzbergs Golf is Mauritzberg's Open weekly competition, which is played every Wednesday. Everyone is welcome to participate, regardless of age, gender and with Max HCP 36.0.
Mauritz's Golf every Monday of the season with the finale last weekend in September. The game form varies between slaggolf and stabbogey.
In connection with each contest, points are awarded. Just because you participate, you get a score. The winner will also get 11 points, runner-up 8, third 7 and so on. The highest 8 points are summed and determines who is this year's Mauritz golfer.
The starting fee is 50 SEK per person. Guests have a 100 SEK discount on the regular 18-hole green fee.
Ebbin Golf
Tuesday is the women's Day

A day for ladies who prefer the social in front of the competition. Here we meet and have a nice together, regardless of whether it is played 9 or 18 holes.
Registration is made at Mingolf, where further information is also available.
Note! In all our competitions are not accepted after notifications.
An easy-to-walk 18 hole course

An elegant and historic building

Attractive greenfee rates
A membership that's suits you
Beginners such as experienced golfers welcome
Have fun and get to know other golfers