A private boat berth near your dream villa
At the castle there is a guest harbour with two piers, the "Kvarnbryggan" and the "Slottsbryggan"
As the owner of a Mauritzbergs villa you can have your own boat berth here.
As a visitor to the resort you are welcome to sail to "Slottsbryggan".
Find Us by Boat
Follow the  waterways from the entire Baltic Sea area, so you can easily get to the castle pier.
Check the Nautical Chart 72 or Archipelago Chart 621: Latitude 58 ° 36 ́22  Longitude 16 ° 40 ́ 49″.
Nearby are the Göta Canal as well as the St. Anna Archipelago, Arkösund and Oxelösund.
Feel free to download the Sea map (PDF)
All visiting boats are referred to moor at Slottsbryggan. Kvarnbryggan is only for private boats for seasonal rentals.
Slottsbryggan and Kvarnbryggan
The depth around the Manor Pier is max about 2.2 meters. There are both municipal fresh water and electrical outlets. It can accommodate 10-15 guest boats, depending on the size of the boat.
The year 2012 was built Kvarnbryggan. It offers 10 moorings for seasonal rental.
Rates
Seasonal places at the castle and Kvarnbryggan
Boats under 9 metres.
4 000 KR per season (incl. VAT)
Guest seats at Slottsbryggan:
200 per day (incl. VAT)
Free Of charge for Golf, Hotel and Dinner guests.
Project "The Future Marina"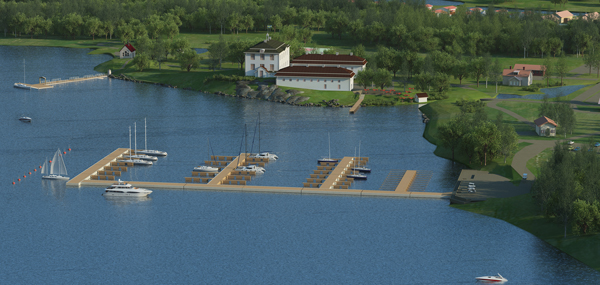 Location and equipment
The new and larger marina with Marina is planned to be a stone's throw away from the castle and will offer space for approximately 100 medium and larger sailboats and motor yachts.
Here, all technical equipment and service will be available with access to fresh water, electricity and wireless internet connection directly to the boat site. Of course there will also be a sauna, a shower, a laundry room and a car park. Plus waste tank in an environmentally friendly way.
The waterway to Mauritzbergs New port is planned for about 3.2 m deep. At the boat pitches the depth will be 2 – 3.2 m. The seats on the bridge's inside are equipped with Y-bars and are 2.0 – 4.0 m wide. The north and east of the bridge is built of so-called heavy breakwater pontoons, so that the harbour is protected even from tougher north and north east winds. The bridge is therefore built in L-form. This makes it possible for visiting boats to also add to the bridge's sea side during calmer weather.

Mauritzberg was granted permission on 10 February 2009 from the Environmental Court for the construction of the marina and dredging and dumplings of dredging masses. 
Where do you want to stay?

What do you need to consider?