Golf lessons to suit everyone
Our Pro Maria Jonsson helps both beginners and more experienced golfers to improve their golf in the different practice areas.
We highly recommend the game classes that are becoming more and more popular, as it helps the player who has played several years to enjoy more of the training.
Presentation of Maria Jonsson
Hi!
In the last two years I have worked as a golf instructor at Mauritzberg, so also under the Golfäsongen 2019 where I will continue to help you develop your golf by offering beginners courses, private and group lessons.
I have worked as a golf instructor for 14 years and here are some of the assignments that I have had over the years.
Golf Instructor Oslo Golfklubb 2013-2016
Coach assignments for NGF (Norwegian Golf Association) World Championships and European Championships for girls
Golf Instructor Nyköpings Golfklubb 2006-2013
Stryrelsemember PGA of Sweden 2014-2016
PGA Stockholm Education Committee 2010-2014
Booking of lessons and courses is done directly to maria.jonsson@pgasweden.com and on phone 0708-584139.
I look forward to seeing you. Warmly welcome!
Sincerely yours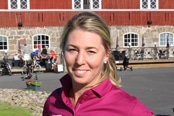 Maria Jonsson
PGA Club Professional
Practice Areas
For you to be able to train all kinds needed during a round of golf, you will find the driving range between holes 1 and 10, the putting green right at the clubhouse entrance while the card game area with bunkers is located about 50 meters from putting green and 18th hole Green.
Private Lesson
A private lesson is not just for an experienced golfer. If you are a beginner, you get personal help, the vllket will make you feel confident in order to go out and play on the course.
25 min 395 kr
50 min 750 kr
Group lesson
If you want to train with a friend or family member, you are welcome!
50 min (2 persons) 895 KR
If you want to train more regularly or are more and want a more personal approach, please contact Maria and she will make a quote depending on the number of players, training sessions and your customer qualities.
Game Lesson
After only one lesson you will see how your thinking and your battles on the course improve.
Price: 1795 KR (2 1/2 to 3 hours including lunch).
Green Card
The green Card is popularly known as the ' Golf driver's license '. The course contains everything you need to learn as a beginner.
If you are a bunch who want to start playing together, this is the course! During the high summer we also arrange open green card courses.
1995 SEK per person (incl. course material)
Max. 6 participants
Getting Started Course
Sunday, 5 May KL. 09:30-13:30
Join and train for this year's season start!
Course contents: Swing, chip, putt and pitch.
795 SEK per person (incl. lunch)
Max. 6 participants
Registration no later than 4 May
Summer Camps for Juniors
Monday 1 July-Friday 5 July KL. 09:30-14:30
We will train on all types of golf and also go through theory and rules.
1995 SEK per person (incl. course material).
Few places left!
Ebbin Golf
On Tuesdays, ladies and girls meet to play golf together at Mauritzberg.
You choose if you want to play 9 or 18 holes. This is not a competition but an activity where you have the opportunity to train and play and together with others. Here you get to know new people and meet new golf buddies.
After the game there is the opportunity to train in a group.
Training 150 SEK/person. At least four and a maximum of six participants/occasion.
Registration is made no later than two days before Maria.
If you also want to play, sign up for my Golf during competitions, Ebba Golf. The start time is confirmed the day before.
An easy-to-walk 18 hole course

An elegant and historic building

Attractive greenfee rates
A membership that's suits you
Beginners such as experienced golfers welcome
Have fun and get to know other golfers