During a stay at Mauritzberg there are many activities to choose from.
If you are missing your favorite activity or would like to know more, please inform us!

Join our Virtual Tour in 360°
Click on the picture and get a taste of our lovely resort!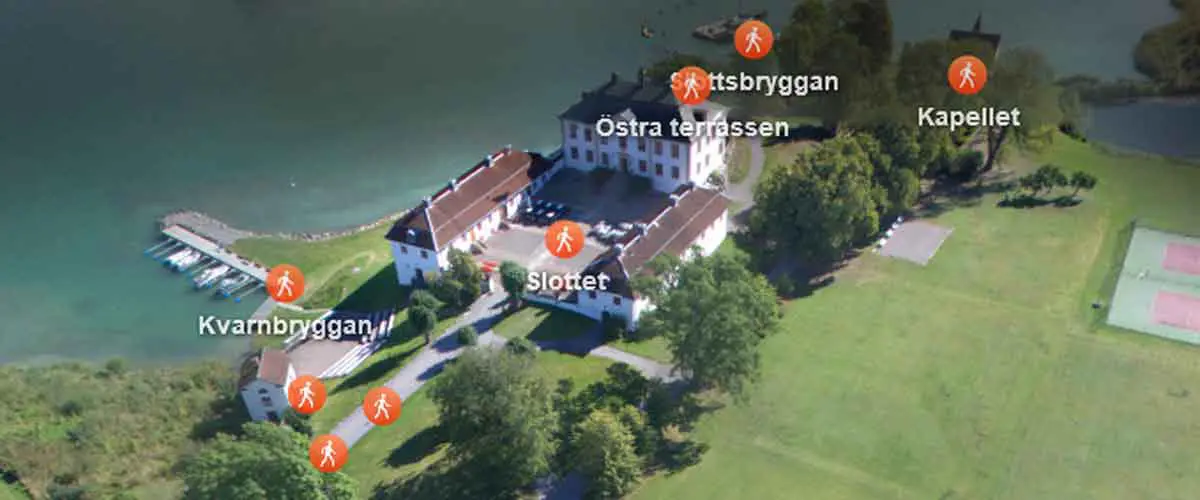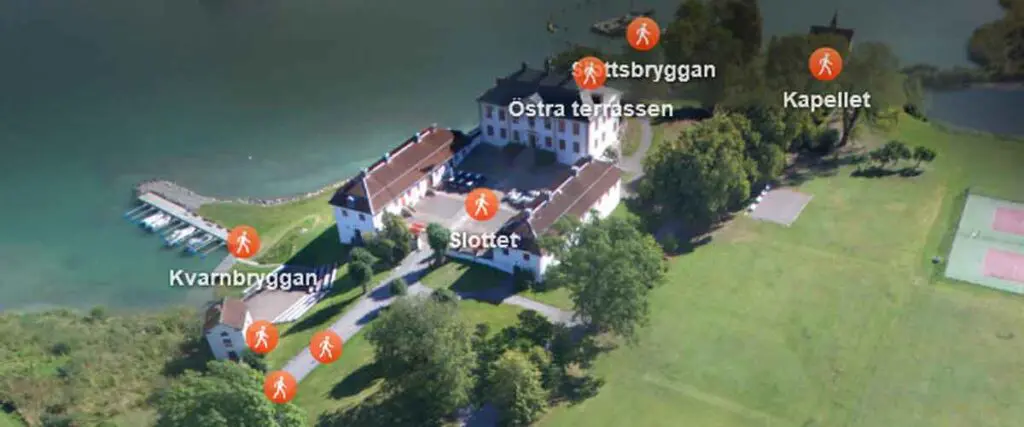 Map Mauritzbergs Slott & Golf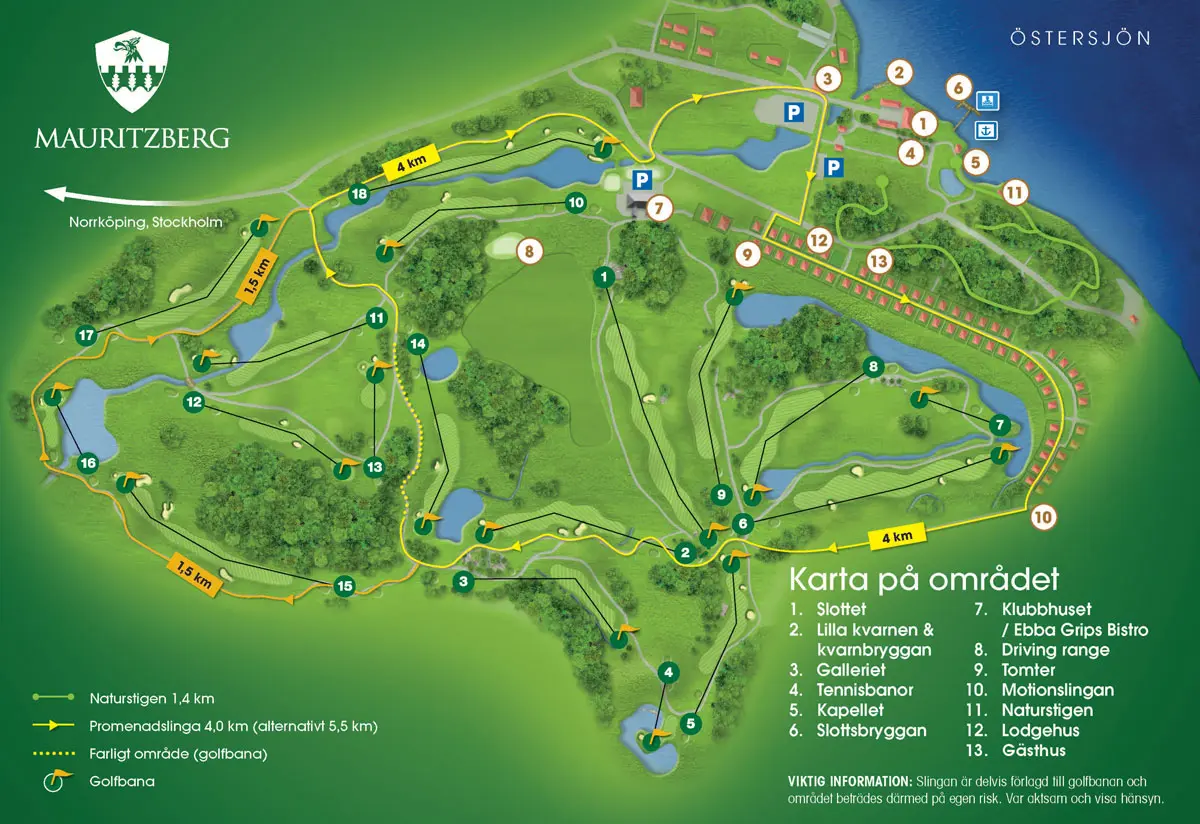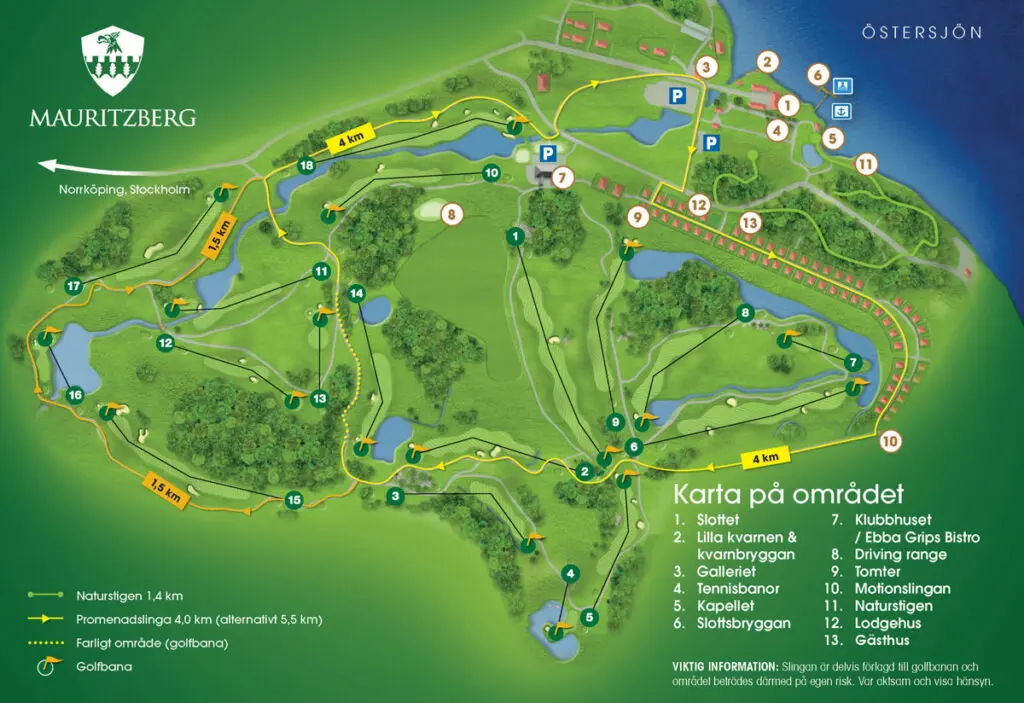 Sea Bathing

From Slottsbryggans bathing Ladder you can swim in Sea water. The water is two meter at least 2 meter deep.
Sauna

In the Manor House guests can enjoy a sauna and enjoy the sea view at the same time! And maybe take a dip into Sea.

In Manor's north wing building, in the basement floor, is located the cosy sauna area. Sauna area is equipped with shower room, dressing room and sauna chamber for cosy Sauna experience. It's easy to relax there.

Floating Sauna

Make a booking for our Floating Sauna for your group. Really great experience by the Sea. 
Price for renting the floating Sauna is 1200 SEK for a maximum of three hours. The price includes heating the wooden sauna, firewood and buckets of water.
The raft has cold shower. If you want to rinse off in warm waters, you may heat the water in the wooden sauna heater.  There is no toilet on the raft. Inside the sauna there is room for 6 people at the same time.
Boule

Play one of the world's oldest games, dating from Egypt. There is a Boule court in the Manors park.  Did you know that Boule trains agility, balance, ball mind and psychic strength?
Price is 80 kr per person.  Free of charge for our hotel guests.
Billiards & Library

In Mauritzberg's library there are about 2 500 pcs rich book collection from the 1600 – 1800 's. There is also an old pool table, which you can freely use as our guest.
It was Birger Mörner who placed the library at its current location.

Fishing

Try the fishing luck from the rocks or out at sea. Own fishing equipment is required.
Golf

Play a round of golf in an unusually beautiful environment! Just a few hundred meters from the castle is our own golf course. A golf course with 18 challenging holes.
For those who do not play golf, we offer introductory courses at the driving range or why not a putting competition on the practice green?
Historical Nature Trail
Here you can enjoy a walk in the protected area, while getting to know the plants and trees.
Information is available along the trail and not so far from the castle there are, among other things, the exciting history of the "Bear Grave"!
Canoe and Rowing boat

What is more soothing than taking a canoe or rowing boat on the shimmering waters of Bråviken?
Price 150 SEK for two hours. Free for hotel guests.
Music Room

A room where you can hear the wings of history. Here, in the castle's own living room, there is a nice sounding wing and comfortable sofas. The music room can be used for smaller concerts or to enjoy music through the castle's music system. Maybe you just want to sit here in good friends ' team, play board games and finish the dinner with coffee and something good besides.
The walls of the music room are filled with portraits of historical figures, which are more or less closely connected to Mauritzberg. The portrait above the stove shows a neatly dressed gentleman named Claes Ekeblad. He rebuilt Mauritzberg Castle after the Russians  burnt down Mauritzberg at 1719.

Walk Loop | Nordic Walking

For those who want a little more exercise, this exercise path is for you. You get a restorative walk that starts among the newly built houses but that quickly turns to the tranquility of the golf course's beautiful setting. You can choose from two options for the nature path, either 4.5 or 5.5 km.
Poles can be borrowed from the reception as a hotel guest. Others pay 80:-/2 hours.

Tennis

In the castle Park there are two tennis courses available.
The price to rent the tennis court is 150 SEK and rent of racks & balls is  40 SEK per person.
Hotel guests plays for free.

Excursions
At Vikbolandet area there are also other natural attractions such as Kolmården Zoo, stegeborg Castle ruin and Göta Kanal in Mem and Söderköping.
We would also like to recommend a visit to the Zarah Leander Museum in Häradshammars Bygdegård, viput Turkey, Sänkdalens Glass, Vikbolandsstruts and Vikboland's deer & game/Hurricane Honey.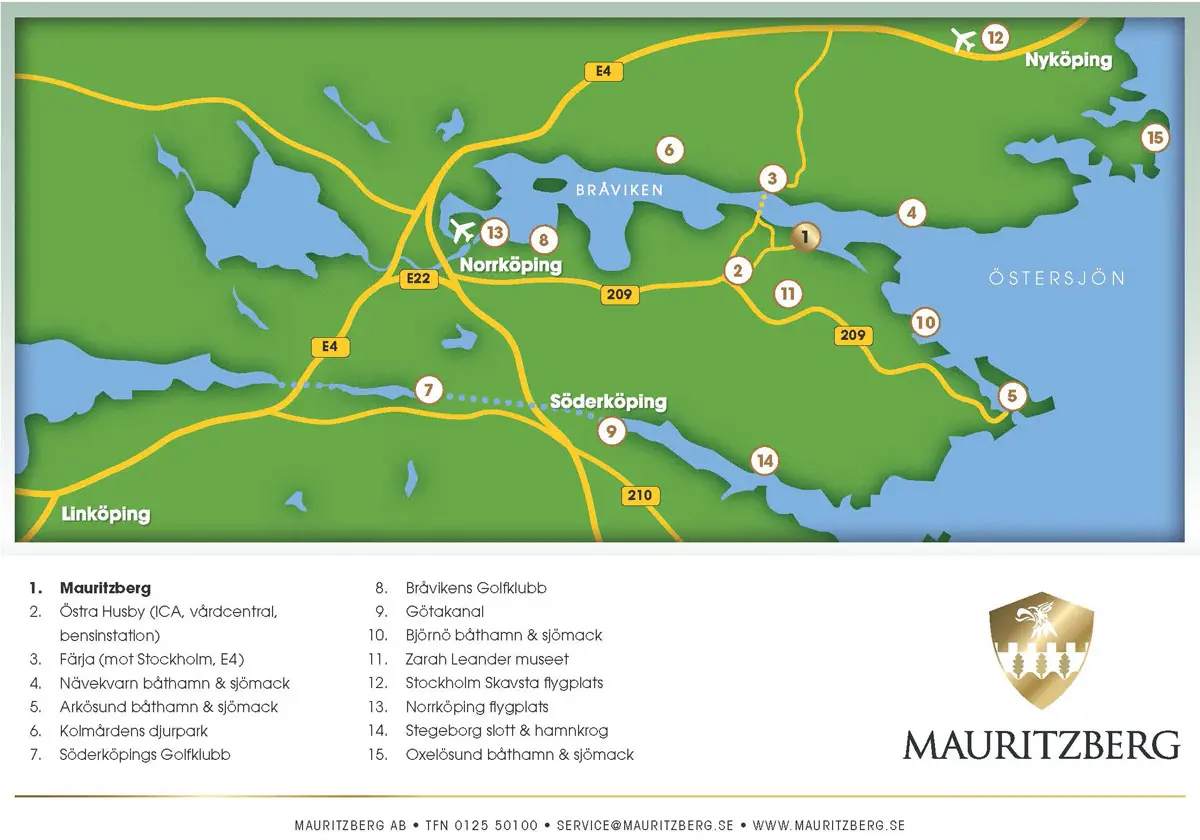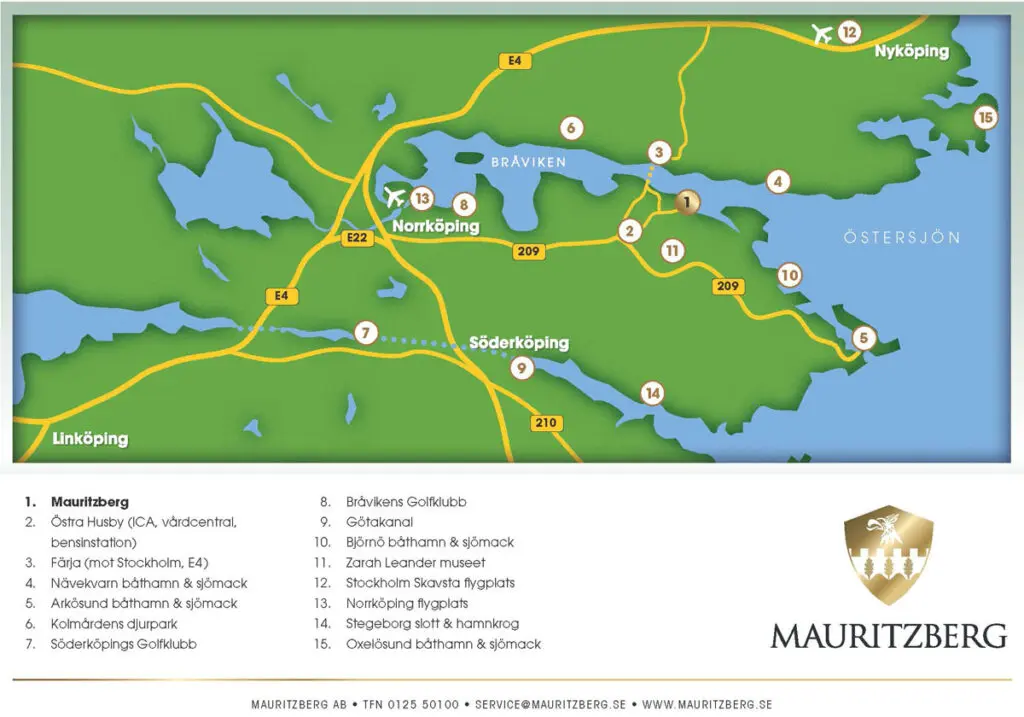 This is Mauritzbergs Slott

Resort developments since 1990

How nice it is at Mauritzberg

Do you want to be part of guest experiences?

Good to know during your stay with us